Off-Road Vehicles
Summary
Our use of the term off-road describes many categories of sport and utility vehicles intended for use on various terrain, including snow and water.
Most of these machines are marketed for recreational and sport racing, but they are also used for utilitarian, military, emergency and law enforcement purposes. Some types of vehicles fall under the extreme sports culture that includes professional racing and stunt competitions.
We specifically take issue with the illegal use of off-road vehicles in areas that are not designated or zoned for their use.
Some homeowners build motocross tracks or trails on their property that adversely affect neighbors. Some riders intentionally trespass into other people's property and travel overland where their use is explicitly limited to trails. It is difficult for police to enforce the law because it requires driving over long distances in an attempt to catch up to them.
There are disputes in many states over the use of public land for off-roading. Recreationists and the industry advocate the use of public land trails and facilities for riding and racing; conservationists advocate protecting and preserving public land from the environmental impact from off-roading. They claim that the use of off-road vehicles disturbs the habitat of animals in national parks and forests.
However the ecological impact from off-roading, the noise from these vehicles ruins the natural soundscape of the environment that residents and vacationers enjoy when hiking and camping.
Most of these vehicles do not require any licensing or safety instruction prior to use. Some machines are known to easily rollover on steep terrain, crushing the operator underneath.
---
All-Terrain Vehicle
An all-terrain vehicle (ATV) is a three- or four-wheeled vehicle with a seat that is straddled by the operator with handlebars for steering control. They are commonly known as off-road vehicles, quads, buggies, trikes, three-wheelers and four-wheelers.
Some riders modify or remove the exhaust silencer and spark arrestor, or install aftermarket exhaust systems that do not have silencers and spark arrestors to make the machines louder. It is illegal on all federal lands and most state lands to do so, but enforcement is inadequate.
All-Terrain Vehicle
In addition to the noise that ATV's make, the deep wheel treads dig channels into the land that damages the natural terrain. They drain bogged areas, increase sedimentation that pollute streams and cause land erosion.
---
Personal Watercraft
A personal watercraft is a vehicle that the rider sits or stands on. They are powered with an inboard engine that drives a pump jet allowing the vehicle to travel at speeds up to sixty-miles an hour on open water. They are commonly known as Jet-Skis, the brand name from Kawasaki.
Vacationers and residents near lakes and streams hoping to enjoy a day of sailing or swimming in tranquil waters are drowned out by the noise. Swimmers and other vessels cannot quickly veer out of the way because of the speed of personal watercrafts. The noise it produces also makes it difficult for operators to hear what is going on around them.
---
Snowmobile
A snowmobile is a land vehicle for use on snow and ice. They are propelled by tank-like rubber treads with ski-runners for steering with a two or four stroke combustion engine. They are commonly known as snow scooters, sleds and snowmachines.
---
Off-Road Bike
An off-road bike is a lightweight motorcycle designed for rough and muddy terrain. They are commonly known as dirt bikes. Single-cylinder two-stroke and single-cylinder four-stroke in both air- and water-cooled engines typically power these machines.
These vehicles are used in competitive sports, such as motocross, supercross, enduros, time or speed trials.
---
Dune Buggy
A dune buggy (also known as an air buggy or beach buggy) is a vehicle with large wide tires, designed for use on sand dunes and beaches. Typically, the vehicle components are mounted on an open framed chassis. A variant of the vehicle is known as an off-road go kart.
---
Motorized Scooter
A motorized scooter is similar to a foot-powered kick scooter with a narrow platform. Some scooters are designed with a seat. While the electric models are quiet, the gas-powered models are extremely loud. They are banned in many municipalities.
---
Minibike
A minibike resembles a small motorcycle. They are commonly known as mini-motorcycles, pocket bikes and pocket-rocket bikes. . Two-stroke combustion engines power these machines. The smallest vehicles can hit speeds up to fifty miles an hour. Originally designed for small children, they are transformed for adult use by adding tall handlebars.
They are also used competitively, such as pitbike racing, minimoto and mini GP racing.
Because of several fatal accidents involving minibikes, many states have passed legislation making them illegal for road use. In New York City, they are illegal on all public streets.
Minibike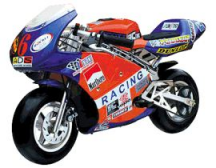 A typical minibike, this model is only twenty inches high. Because the vehicles are so low to the ground, pedestrians and motorists cannot readily see them in traffic.
---
Industry
The largest manufacturers of off-road vehicles include Kawasaki, Yamaha, Razor, Bombardier Recreational Products and John Deere. Manufacturers and retailers target consumers through lifestyle magazines and cable television.
There are several industry and riders organizations including: Personal Watercraft Industry Association, International Snowmobile Manufacturers Association, BlueRibbon Coalition, American Sand Association, California Off-Road Vehicle Association, TreadLightly, National Off-Highway Vehicle Conservation Council, and All Terrain Vehicle Association.
---
Legislation
In communities that have tried to restrict the use of off-road vehicles, riders have organized and lobbied against regulation.
A zoning and/or land use ordinance is the most effective legislation to ban the use of off-road vehicles in a given area. A zoning ordinance is a public policy that defines and prohibits land-use that harms existing residents or businesses in a given area.
A Montana family was dealing with a neighbor that installed a motocross track. The noise levels and dust from the motorcycles were so great that the family had to abandon their home during race meets. The neighbor chose to ignore complaints about the track. The family filed a lawsuit in district court against the neighbor and won.