Engine Brakes
Summary »
Safety and Health Concerns »
The Money Trail »
Legal Considerations »
Take Action »
---
Summary
Most people have no idea what an engine brake is, but they know it when they hear it. It is a deafening bellowing noise that trucks produce when they slow down. Engine brakes are primarily used as a means to reduce the costs of maintaining standard wheel brakes.
An engine brake is also known as a Jake Brake or Retarder. A Jake Brake takes its name from the manufacturer who invented the most common implementation of the technology, Jacobs Vehicle Systems.
The device works by turning the engine into an air compressor that absorbs energy, the retarding effect slows down the truck. The sudden release of pressure creates an explosive roaring staccato noise that can be heard hundreds of feet away.
Originally designed for semi-trailer diesel trucks, engine brakes have been adapted for use in tow trucks, utility and emergency vehicles, buses, and recreational vehicles.
Without a properly installed system to mitigate the noise, it is a serious noise pollution hazard. The noise is an acoustical nightmare for people who live near highways or truck routes.
Jake Brake Device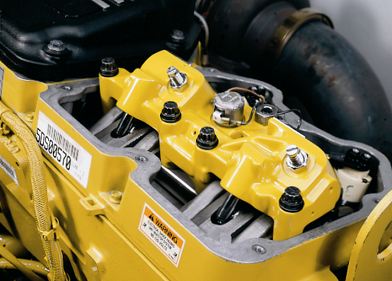 The device is installed on the top of the diesel engine and the trucker uses a switch on the cab to activate it.
---
Safety and Health Concerns
Noise pollution is unwanted human-created sound that has the effect of being annoying, distracting, painful, or physically harmful. People exposed to noise pollution suffer from hearing loss, sleep deprivation, chronic fatigue, anxiety, hostility, depression and hypertension. World Health Organization, National Institutes of Health, United Nations and numerous scientific and medical publications recognize noise pollution and its deleterious effects.
The intense sound caused by engine brakes easily triggers an involuntary stress response commonly known as "fight or flight." This results in the secretion of adrenaline, with ensuing spikes in cardio-respiratory rates, muscle tension, and elevated blood pressure. Vibroacoustic Disease is a cumulative and chronic disease caused by exposure to infrasound. Infrasound is low frequency sound energy that affects the nervous system and prolonged exposure can lead to progressive medical conditions.
Jake Brake Sign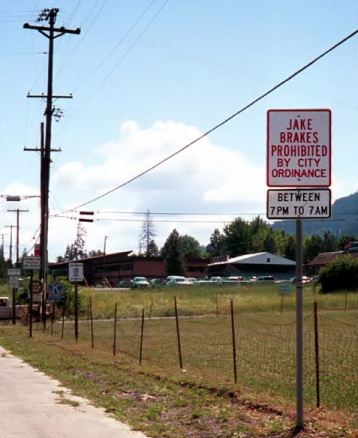 Many communities post signs banning the use of Jake Brakes. This sign was posted in Syringa, Idaho.
---
The Money Trail
The manufacturers of engine brakes is Jacobs Vehicle Systems, Pacbrake Engine and Exhaust Brakes, and Voith Turbo.
---
Legal Considerations
Every state has a Department of Transportation (DOT) agency that is responsible to inspect trucks for safety and environmental compliance.
Many municipalities have banned the use of unmuffled compression brakes. Some municipalities allow the use of engine brakes only in the event of an emergency.
---
Take Action
Do not approach or attempt to reason with truckers. When possible, take down their license plate number and call the police.
Learn the existing noise codes in your community and how it applies to engine brakes. Lobby officials for a stronger noise codes against engine braking and public signs.
Talk to your neighbors and organize; work with community groups and raise the issue of engine brake noise.
---