Loud Motorcycles
The Label Match-Up Program
Two key elements of the label match-up are contained in the federal regulations. They are noise emissions testing, and labeling. This applies to street9-1 (highway use), and off road9-2 (dirt bikes) motorcycles manufactured after December 31, 1982, which are for sale in the U.S.
The EPA chose not to enforce noise emissions standards (noise level testing) on motorcycles that are for competition use9-3 or export, and motorcycle exhaust systems that are for export, pre regulation motorcycles, and competition use. However they do require labeling for these exhaust systems9-4 and motorcycles9-5 as a means to identify and set what (export) and where (competition events) these exhaust systems are to be solely used for, and the type of motorcycle (pre regulation, or competition models) installed on.
Noise Emissions Testing
The EPA sets the maximum noise emissions levels9-6 by measurement under a strict scientifically derived testing procedure (SAE j331a)9-7 to recreate the vehicles' maximum noise levels while under heavy acceleration. This test represents what can be expected in actual real world use. Currently the maximum noise emissions are 80dba for street motorcycles. This current noise emissions limit (or cap) offers the minimum level of protection to the public.
Labeling
Once the motorcycle successfully passes the noise emissions test (J331a), two labels (one on the vehicle chassis, the other on the vehicle muffler) are required to be affixed in a "readily visible position" at the factory. Both these labels contain an identical model specific code 9-8 (along with other information) that is unique to the make and model of the motorcycle. The comparison of the model specific code between the two labels provide a way to "match up" the muffler to the motorcycle.
A regulated motorcycle that has an exhaust system installed without the correct label (i.e. competition use, pre regulation, export only, or no label at all) or has an exhaust system from a different make and model of motorcycle (un-matching model specific codes), is in violation of federal regulations and section 4909a(2) of the Noise Control Act (NCA).
The label match-up, quite simply, eliminates all ambiguity as to what is or isn't a suitable motorcycle muffler. It greatly lightens the burden on police, who normally would have to place a subjective value like "excessive" or "unusual" on motorcycle exhaust noise, by instead just requiring a simple visual check for the correct muffler label and model specific code. Enforcement is this easy. No sound level meters or special skills are required.
The first is the "motorcycle noise emissions control information label" affixed to the motorcycle chassis (as defined and required by 40 CFR205.158). This label includes the model year, a model specific code that only appears on an approved muffler designed for a specific vehicle, engine rpm during federal test procedure, the statement "this motorcycle meets EPA noise emissions requirements of either 83dba or 80dba" and a warning that "tampering" is in violation of federal law.
These two photos are from a 2003 Honda VTR 1000F "Super Hawk". Additional examples of match-up labels are included in Appendix I.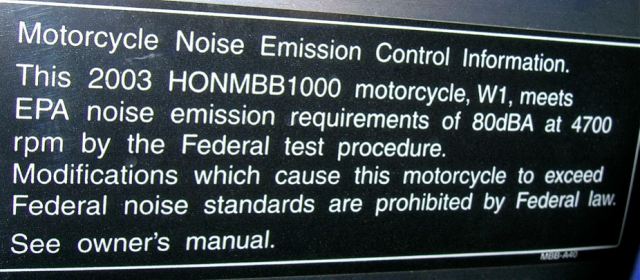 The second is the "exhaust system noise emissions control information label" to be affixed on the quiet and tested muffler (as defined and required by 40CFR205.169a(1). This muffler label (in general) states that the exhaust system meets EPA noise emissions requirements and includes the manufacturer's name, noise emissions limit, and a unique model specific code (HOMMBB1000 in these photo examples) that only appears on a motorcycles "motorcycle noise emissions control information label" (previous photo) this exhaust system is designed for.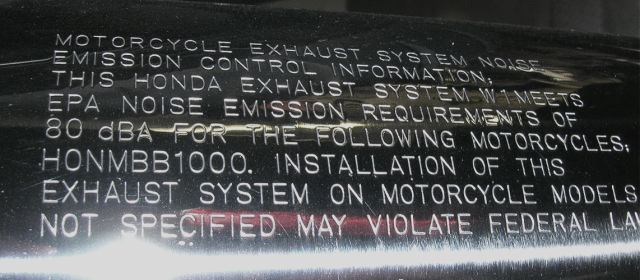 In practical use, label match-up is easier than it sounds. Since label match-up is an equipment requirement, enforcement "will not require the vehicle to be in operation or the driver to be present in order for a citation to be made9-9." Secondly, police will not need to compare model specific codes from either labels because when they stop or inspect the exhaust system of a loud motorcycle they will find:
The overwhelming majority of loud federally regulated (1983 and newer) motorcycles are equipped with illegal aftermarket exhaust systems that are completely void of federally required labeling. See Appendix II [LINK] for photo examples.
Less common are mufflers labeled for competition use motorcycles only. Photo of a competition use muffler installed on 2004 Harley Davidson FXR street use registered motorcycle. This muffler is currently legal for road use under our PA vehicle equipment statutes and inspection code.
The third type of illegal exhaust system are those that are correctly labeled but have been tampered with. By default, EPA approved exhaust systems are quiet. Therefore, if police stop a loud federally regulated motorcycle with the correct muffler label obviously someone tampered with it to increase its noise emissions. Included in Appendix I are photos of some of the most common signs of tampering.

All of the above exhaust systems, when installed on a federally regulated motorcycle constitutes a violation of section 4909(a)2 of the NCA. In addition, the absence of a muffler label, is also a violation of section 4909(a)1 which is applicable to the manufacturers.
And lastly, trying to swap EPA approved mufflers from different makes and models is nearly impossible. Generally, motorcycle mufflers and exhaust systems are designed for a specific model. They are stylized to give the motorcycle a unique appearance. The muffler size and inlet location, as well as exhaust pipe size and mounting brackets are all individualized. Even if mufflers could be cross-installed from different models, the resulting noise increases (if any) would be negligible due to the high degree of technology built into these mufflers.